Meditation & Yoga
Retreat
Meditation and Yoga Retreat
St. Crispin's Retreat Center
Near Oklahoma City and Tulsa Oklahoma
Nov 1 - 4, 2018; 4 Day Retreat (Thur-Sun)
Registration Closes October 17, 2018
Fee includes; Lodging, meals and tuition.

Early Registration (Before Sept 14)
Per Person Double Occupancy, $420.
Per Person Private Room, $480.
Late Registration (After Sept 14)
Per Person Double Occupancy, $450.
Per Person Private Room, $510.
The theme of this retreat is awakening joy. We will examine how our minds work and calm our nervous systems. We will follow a balanced schedule of meditation, inner reflection, gentle yoga movement and deep rest. We will journal our responses to inquiry sessions, express ourselves through art, have thoughtful discussions and make friends with inner stillness. To ensure deep peaceful rest there is plenty of free time for walking, contemplation and resting. Throughout the retreat, outside of guided group discussions and visiting time after lunch, we maintain silence to facilitate deep transformation.
Meditation, Gentle Yoga
Art Therapy, Mindfulness Practice,
Spiritual Inquiry,
Transformational Practices
The retreat presents a non-dogmatic approach of Eastern Spiritual Practices, Western Brain Science and Supportive Community.
Online Registration for a Retreat
Preparing for Retreat and Details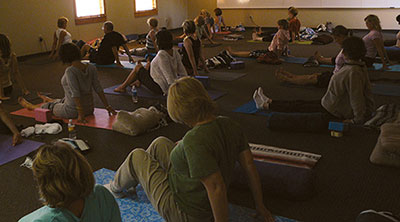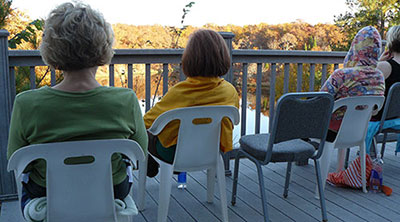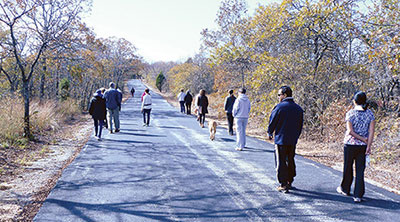 We have combined the most transformative spiritual practices to create a powerful spiritual and psychological container for connecting into the inner wellspring of true happiness and peace.
The retreats are non-denominational in presentation and open to all that are interested. Our past retreats have been attended by people from many faiths i.e. Christian, Buddhist, Jewish, Muslim, Native American, Atheist, etc.
Accommodations
St. Crispin's Retreat Center is located on 400 acres in the rolling, oak-covered hills of Seminole County within easy driving distance of Oklahoma City and Tulsa. There are quiet hiking trails and two lakes that convey a felt sense of peacefulness, stillness and serenity.
The retreat center lodge overlooks a tranquil lake surrounded by native oak-covered hills. The facility is a modern conference center with hotel style rooms. Each room has two twin beds and a private bathroom. Other than service animals, pets are not allowed.
Scholarship
We offer a limited number of partial work scholarships to retreats for those who need financial assistance.
Cancellation Policy
For individuals canceling their attendance for an upcoming retreat the fees are as follows: 31 days or more prior to retreat, $30 cancellation fee. 14-30 days prior to the retreat, $60 fee. Less than 14 days prior to the retreat, no refund.
Our retreats at St Crispin's's are limited to a total of 32 people and we turn away applicants when the rooms are sold out. Fourteen days before the retreat we give our final participant counts to the staff at St Crispin's and they order food for the entire retreat.

It is in your best interest to be certain of your intention before registering for a retreat.
Schedule

The schedule for the retreat program:
Thursday, 3:30 pm to 9 pm.
Friday & Saturday, 7 am to 9 pm.
Sunday, 7 am to 1 pm.
Because the schedule is a vital part of the retreat container, we ask that all attendees arrive on time and plan to stay through the end of the retreat.
Online Registration for a Retreat
Preparing for Retreat and Details
Retreat leaders
Rick NurrieStearns
, has been immersed in consciousness studies for more than four decades. For over 20 years he was involved in publishing spiritual and transformational books and magazines. He was the publisher of the magazines "Lotus: Journal for Personal Transformation" and "Personal Transformation," co-editor of the book "Soulful Living," co-author of "Yoga for Anxiety," "Yoga for Emotional Trauma" and "Yoga Mind, Peaceful Mind." Along with his wife Mary, he leads transformational meditation retreats.
Mary NurrieStearns, is a psychotherapist and yoga teacher who travels nationally teaching yoga, mindfulness and meditation. She was editor of Personal Transformation magazine and co-author of "Soulful Living," "Yoga for Anxiety," "Yoga for Emotional Trauma," and "Yoga Mind Peaceful Mind." She credits the healing practices of yoga with profound inner healing and lives quietly with Rick in their house in the woods.