This web site is a resource for personal and spiritual transformation. It's here to support your journey, whether you are looking for psychological healing or spiritual awakening.
Our reading room is a wonderful collection of inspiration from leading thinkers, healers and teachers. Like the soft light of the morning sun, it will illuminate your journey.


Profound Inner Peace does not come from fixing yourself up. It arises from the extraordinary discovery that you are already whole, from the knowing and living of who you truly are. Connecting to your essence supports and sustains you through life's inevitable ups and downs.
While self improvement programs are helpful, lasting peace comes from discovering your spiritual essence. The truth is that you are much more than you imagine yourself to be, far more so than you can talk yourself into believing. Your essence is not flawed. Deep inside you are already worthy and whole.
If you really want inner peace let the desire to know your true self burn in you. Know that your spiritual essence is already, always present in you, even now, as you read. If, in your quiet moments, you experience a sense of peaceful presence, move into that experience even more. This essence, when truly felt, becomes a powerful flame that consumes your misunderstandings about who you are, fills you with profound inner peace and guides you towards your potential.
If you yearn to live that which is most true in your life we invite you to contact us or join us in a workshop or retreat.
--Rick and Mary
Meditation and Yoga Retreats
We host two transformational retreats a year. The daily retreat schedule includes a balanced schedule of meditation, inner reflection, easy yoga movement, transformative practices, group meetings and deep rest.
This combination of activities gently and safely uncovers the inner knowledge that you are already whole. This discovery taps into an internal wellspring of happiness and inner peace.

Outside of group meetings the retreats are held in silence.

Meditation and Yoga Retreat Dates
November 7 - 10, 2013
March 20 - 23, 2014
(Thursday-Sunday)
Retreats to be held at St. Crispin's Retreat Center, between Tulsa and Oklahoma City, Oklahoma.
Details
Seminars and Workshops
Yoga, Mindfulness and Compassion,
A one day seminar to be held in the following cities.
Louisville, KY
Wednesday, April 10, 2013
Cincinnati, OH
Thursday, April 11, 2013
Columbus, OH
Friday, April 12, 2013
Seminar Details
Columbia, MD
Thursday, May 9, 2013
Fairfax, VA
Friday, May 10, 2013
Seminar Details Soon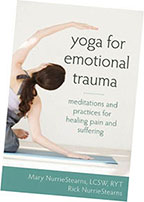 Yoga for Emotional Trauma
Many of us have experienced a traumatic event in our lives, whether in childhood or adulthood. This trauma may be emotional, or it may cause intense physical pain. In some cases, it can cause both. Studies have shown that compassion and mindfulness based interventions can help people suffering from trauma to experience less physical and emotional pain in their daily lives. What's more, many long-time yoga and meditation teachers have a history of teaching these practices to their clients with successful outcomes.
Read More...

Yoga for Anxiety
This book offers meditations, mindfulness practices, self-inquiry exercises, and yoga poses that soothe your anxious feelings, open your heart and develop your mental clarity restoring your sense of innate goodness and increasing your contentment in life.
Read More...