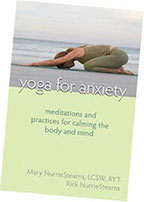 Yoga for Anxiety
Meditations and Practices for Calming the Body and Mind
By Mary and Rick NurrieStearns
Many of us face daily demands and overwhelming difficulties that cause seemingly uncontrollable feelings of anxiety and fear. When you feel this way, it's healing to soothe yourself, reclaim your sense of innate goodness, and gain insight into the cause of your suffering. This book offers meditations, mindfulness practices, self-inquiry exercises, and yoga poses that calm your body, quiet your mind and open your heart.
Let this book be your healing companion. Be touched by the inspirational true stories and embrace the yogic practices and soon, you'll be free from the anxiety and fears that hold you back as you reconnect with your inner self, clear your mind and live with a loving heart.
Yoga for Anxiety is an excellent guide for anyone seeking greater serenity, peace, and fulfillment--and who isn't?
-Larry Dossey, MD, author of Healing Words and The Power of Premonitions.
To buy from Amazon.com click the link below:
Yoga for Anxiety: Meditations and Practices for Calming the Body and Mind